Harry Murphy, sculptor/designer.
Marshall Johnson and Doug Vickery, painters
……………………………….Florence Mall, Florence, KY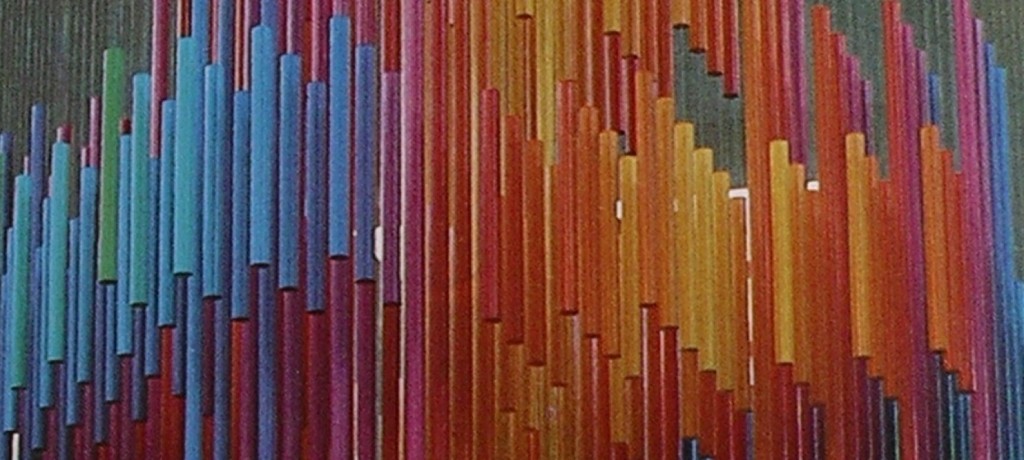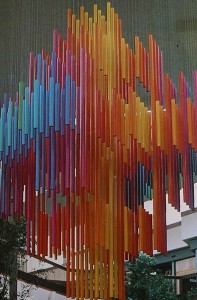 Hyatt Regency Hotel, New Orleans, LA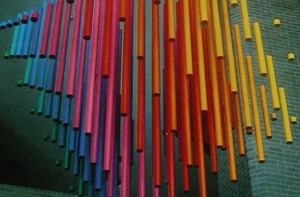 We discovered in our research that automotive lacquer attacks the surface of abraded PVC pipe (when sprayed properly), softening (melting) the plastic to just the right depth and for just the right amount of time for the paint to bond completely with the plastic: .extremely durable.  
These thirteen PVC tubes are the final color proofs.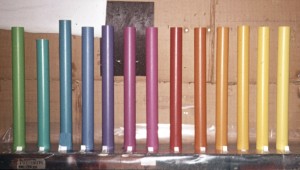 The magenta pieces curing before transit.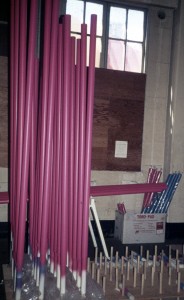 Doug, his wife Susie, and I trucked the painted pieces to New Orleans.
In this picture we have hung the first three colors: 24 pieces.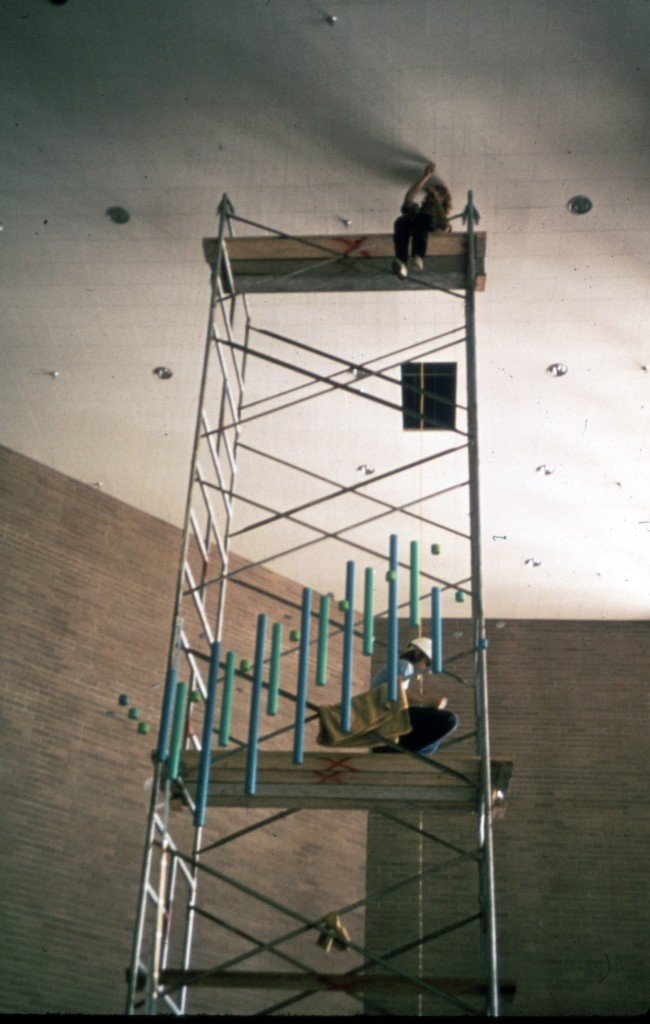 The left sculpture (of 2) showed its yellow side when one
walked into the building by bridge from the Superdome.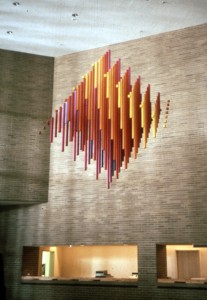 Personal esthetic note about Harry Murphy's sculptures: For the Hyatt Regency Hotel in New Orleans Harry designed two identical, mirror image, geometrically pure, brilliantly colored cubes. These cubes were not drawn in three-dimensional space by lines framing the six surfaces, nor was there any sense of massive solidity.  Instead, these were spectral tubular spears penetrating the air, defining their cubic shape with great certainty and elegant simplicity from some angles, and with baffling visual complexity and confusion from other points of view.  It was a mystery to me how strongly these constructions were cubic, but at the same time did not seem like cubes at all.  They were mathematical puzzles of high esthetic beauty; altogether a pleasure to be part of.
For the Florence Mall in Kentucky (top of this page) Harry designed a single but more complicated and bigger sculpture (the longest tubes were 16′ long); less pure, but equally dazzling in the moiré-like effect of the intersecting colors and different lengths of tubing. Marshall
For Harry Murphy's new home I painted the two plastic wall sculptures (29 pieces each) in a 15-color carefully balanced pastel spectrum. (For more about this house, see Interior and Exterior Painting pages.)  I mixed and matched the colors in automotive lacquer, from Harry's PMS specifications, and sprayed the pieces individually.  (Note careful flush mounting of the pieces, especially visible at ceiling in lower photo. Click to zoom 2x.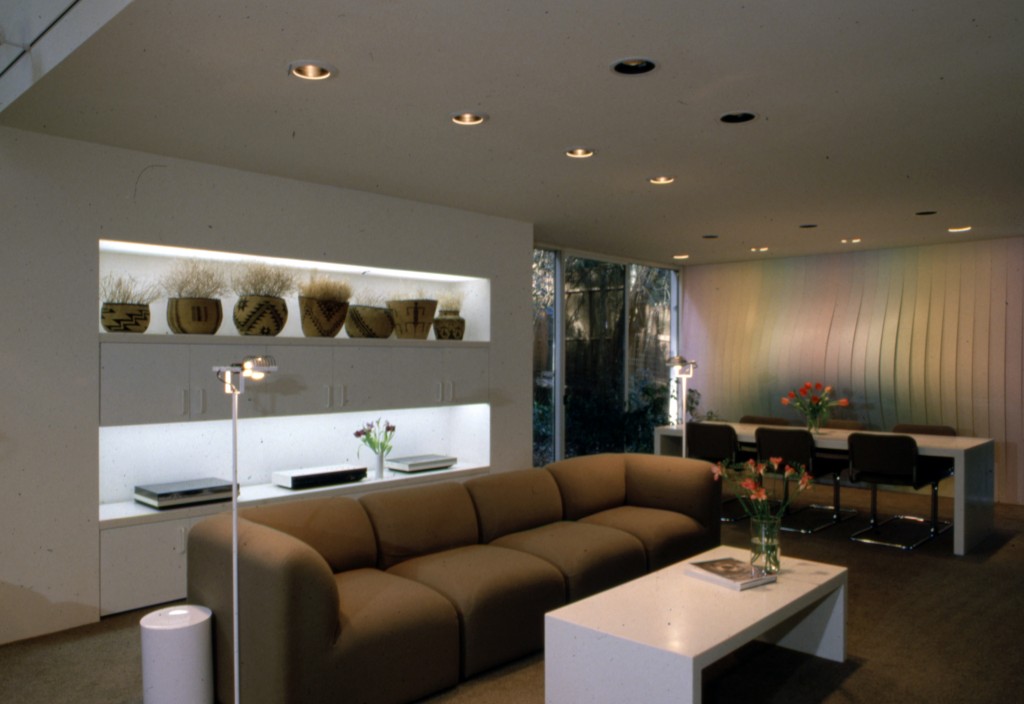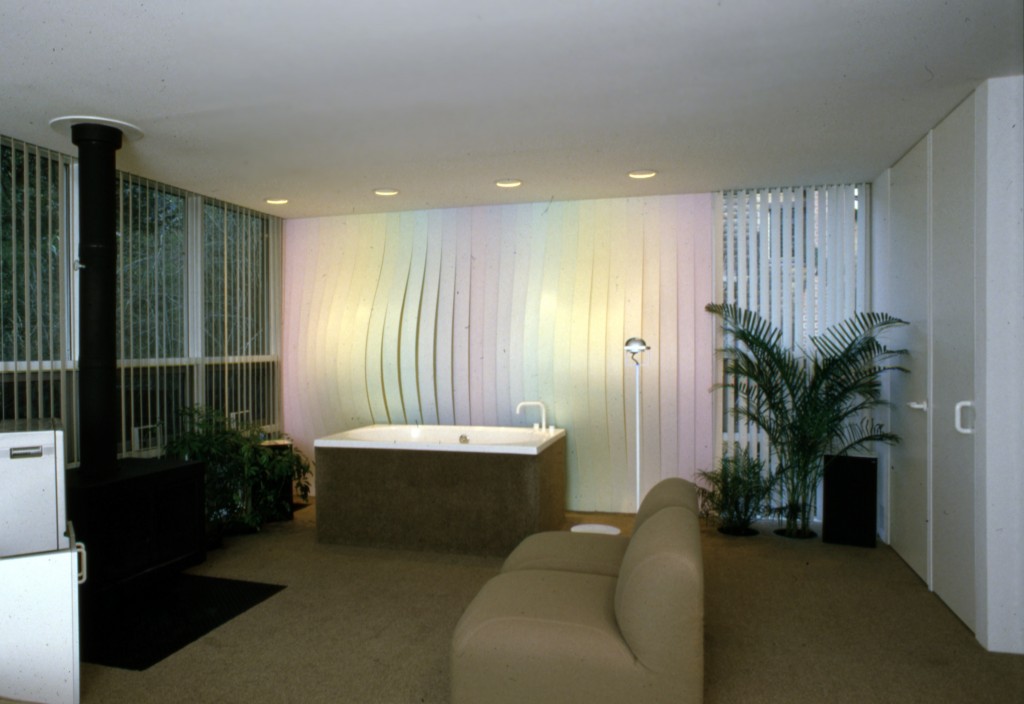 top of page