From basic Wallpainting to
Fine Paints of Europe

's Hollandlac Brilliant and other special treatments.  Fine Enameling.



C2 C

abin

et a

nd 

Tri

m 

P

aint w

ith Po

lyW

hey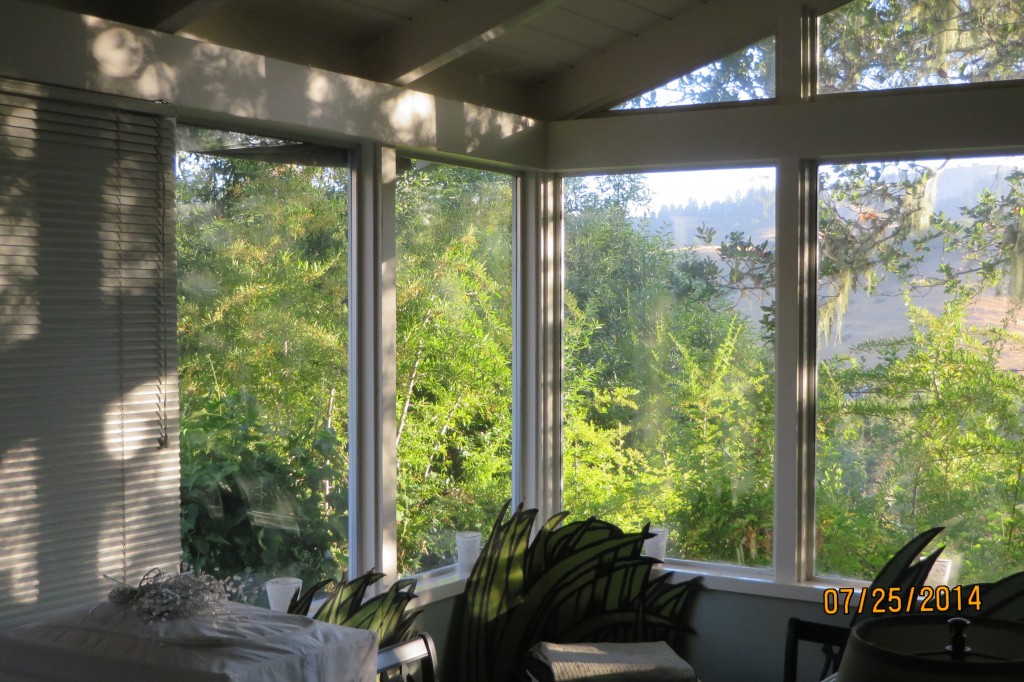 Belvedere, CA
C2 brand Cabinet and Trim Paint with PolyWhey, satin finish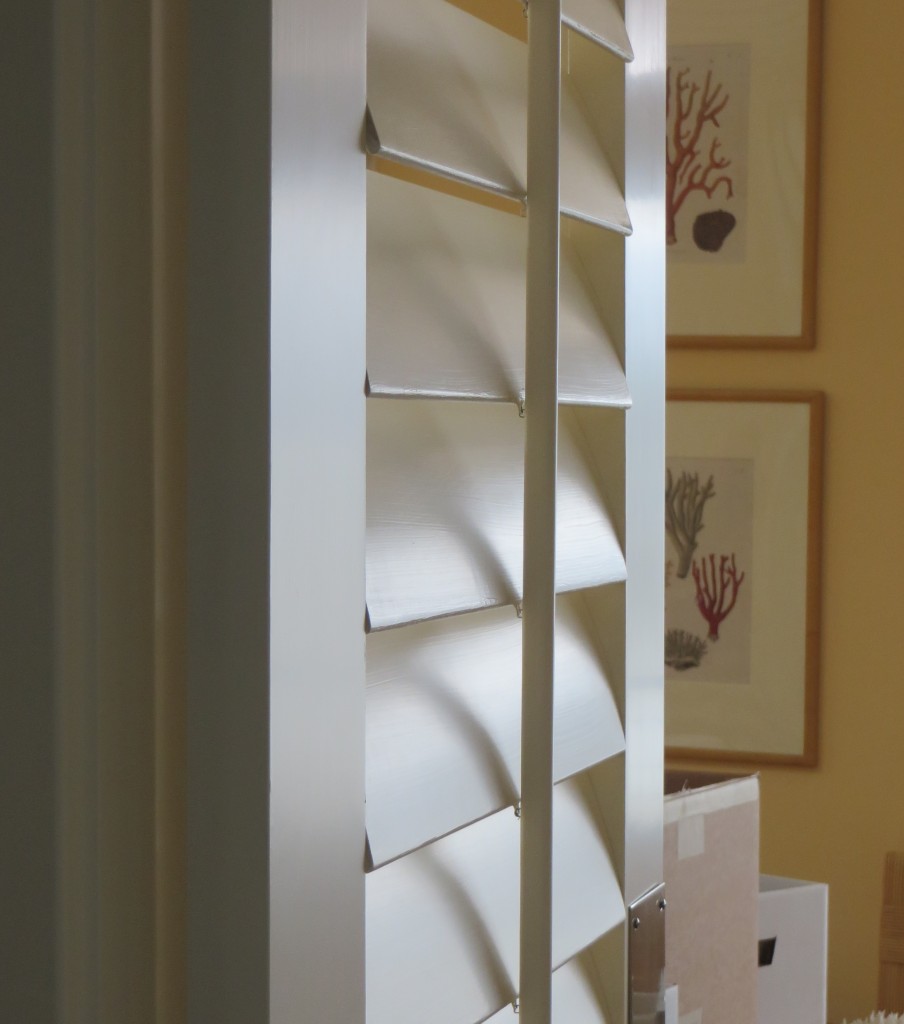 Great News about C2 brand Cabinet and Trim Paint with Poly Whey!
Finally we at Marshall Johnson Painting have the evidence we need
to conclude that this paint is all it claims to be!
Recently we hand painted 4 gallons of this paint on a job in southern Marin County, CA.  First of all, the paint covered and handled very well during application.
Then we left the job for three weeks (construction related delays).  We came back to this C2 job with fresh eyes and enough time having passed to let the paint cure fully.  It had cured to a very hard finish and a wonderfully smooth hand:  it really feels like an oil based finish!
Bravo C2 andVermont Natural Coatings (the maker of the Poly Whey part of the paint) for the superior product and for collaborating so well to make it!  To find out more about these two unusual companies, click on their links above.
C2 Cabinet and Trim Paint, satin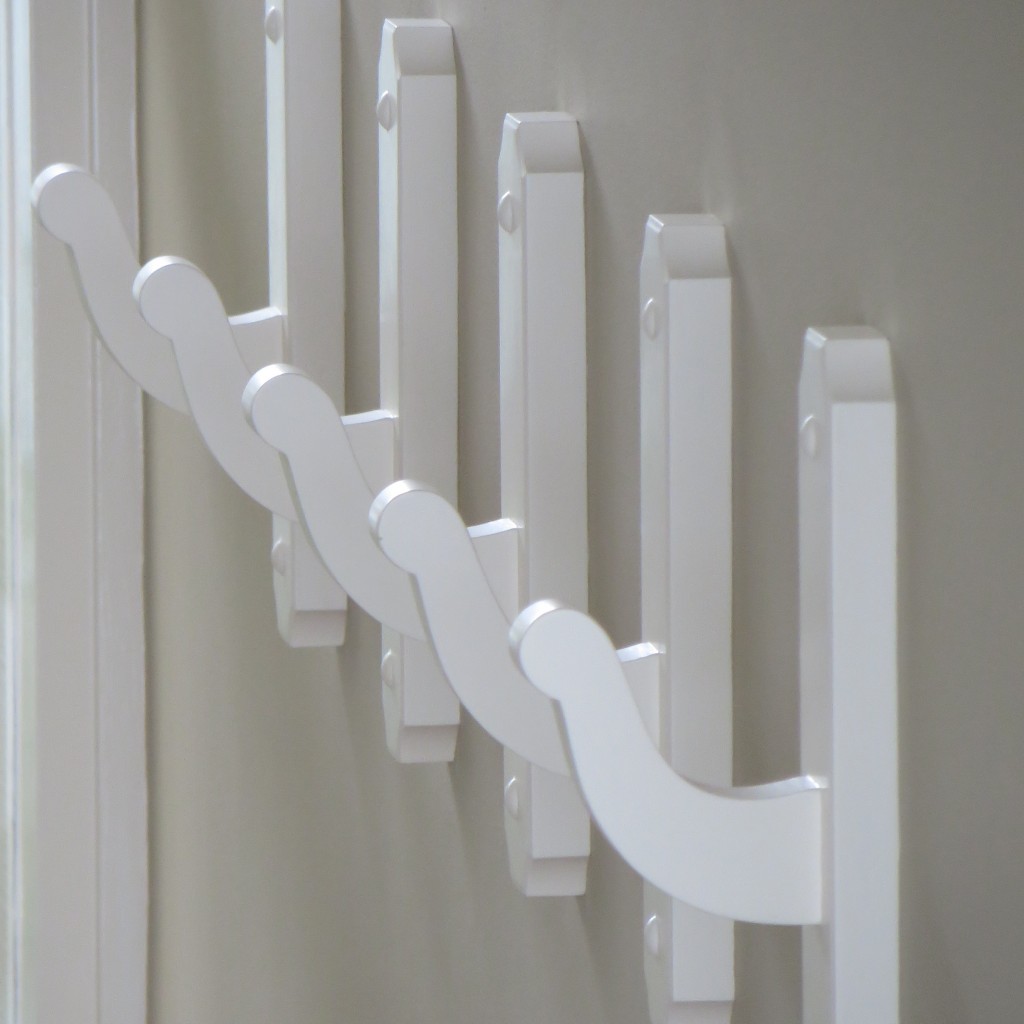 Enamel: C2 Cabinet and Trim Paint
Walls:  Fine Paints of Europe, Eurolux Matte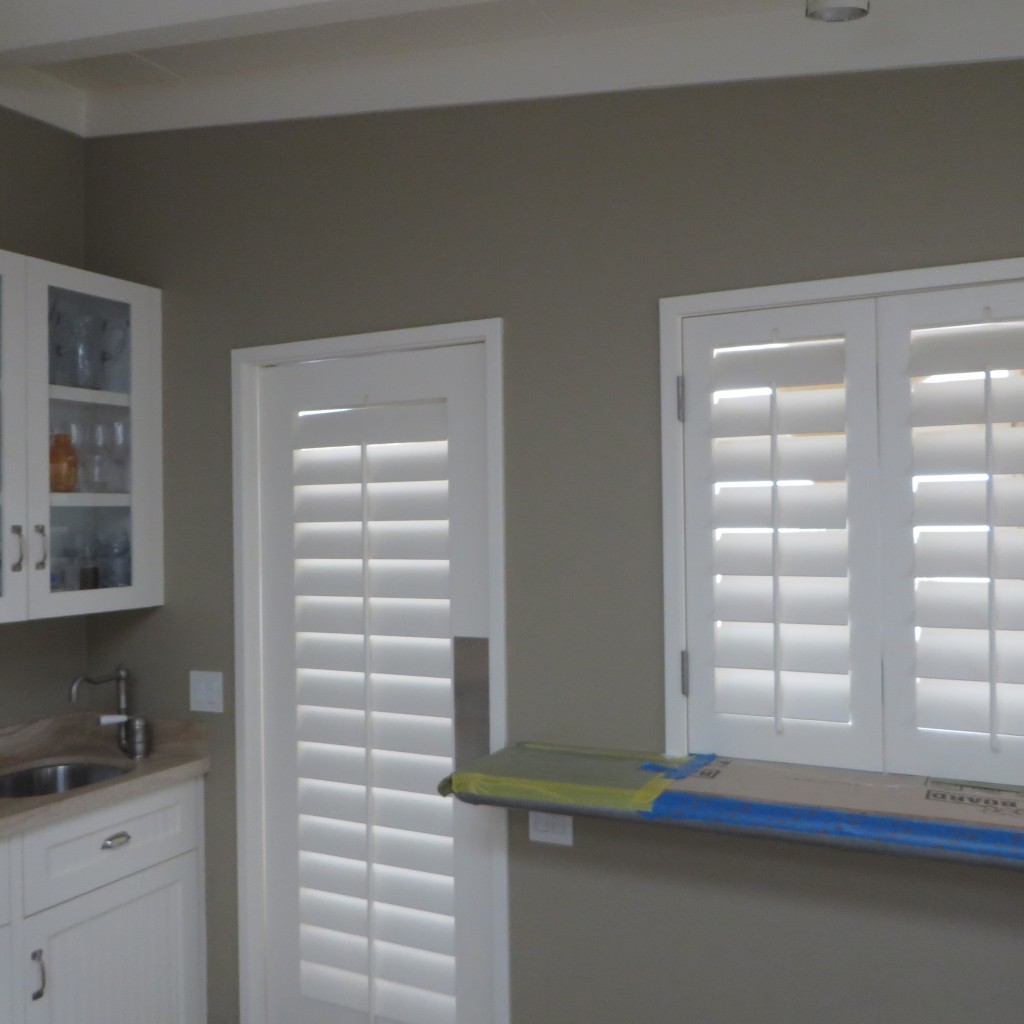 Inside of louvered front door:  Fine Paints of Europe Hollandlac Brilliant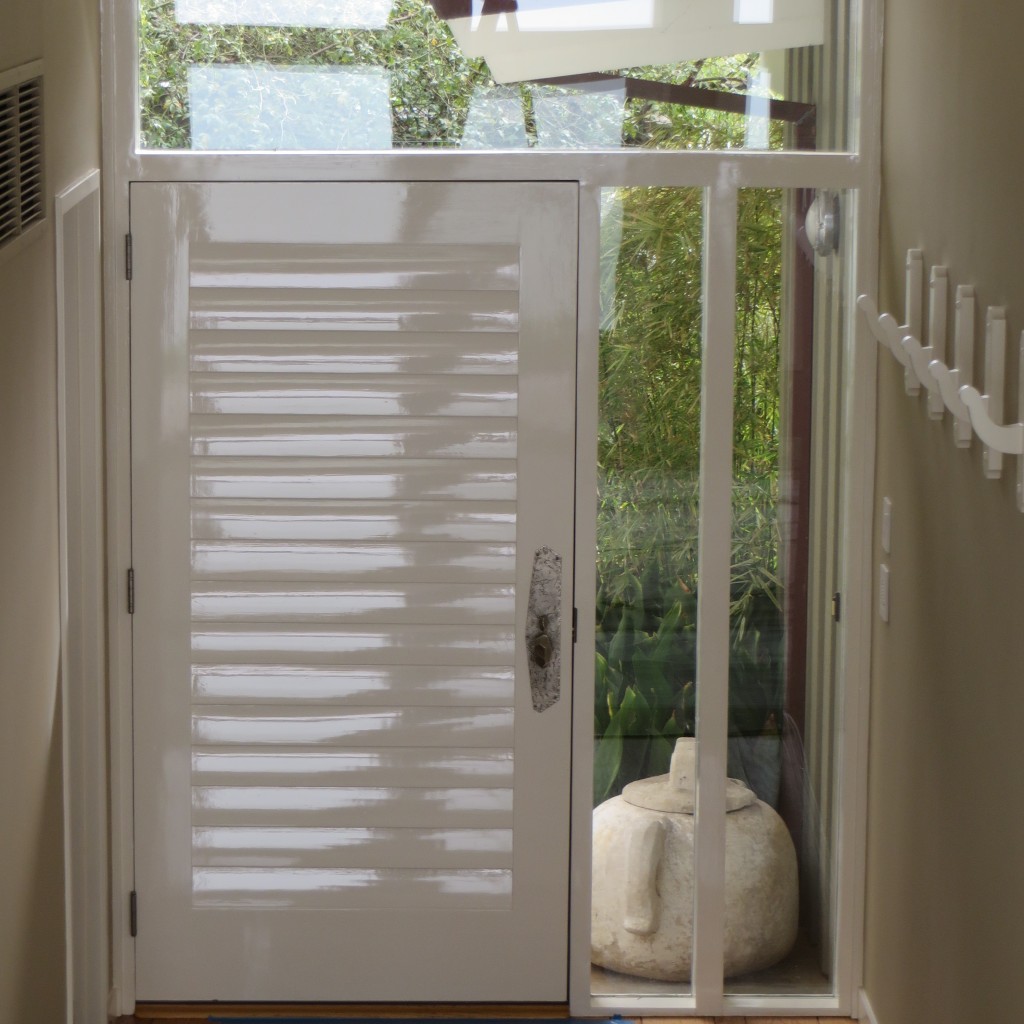 Fairfax, Marin County, CA.
All interior and exterior painting: Marshall Johnson Painting.                     Architectural Design and Design of furniture, interiors, lighting, sculpture, etc. for his new home: Harry Murphy.
Construction: Joe Downey Construction.                                 Architectural Associate: Leif Glomset.
Corian innovation and fabrication: Ryno Wretling ( later: Bygg, Inc.)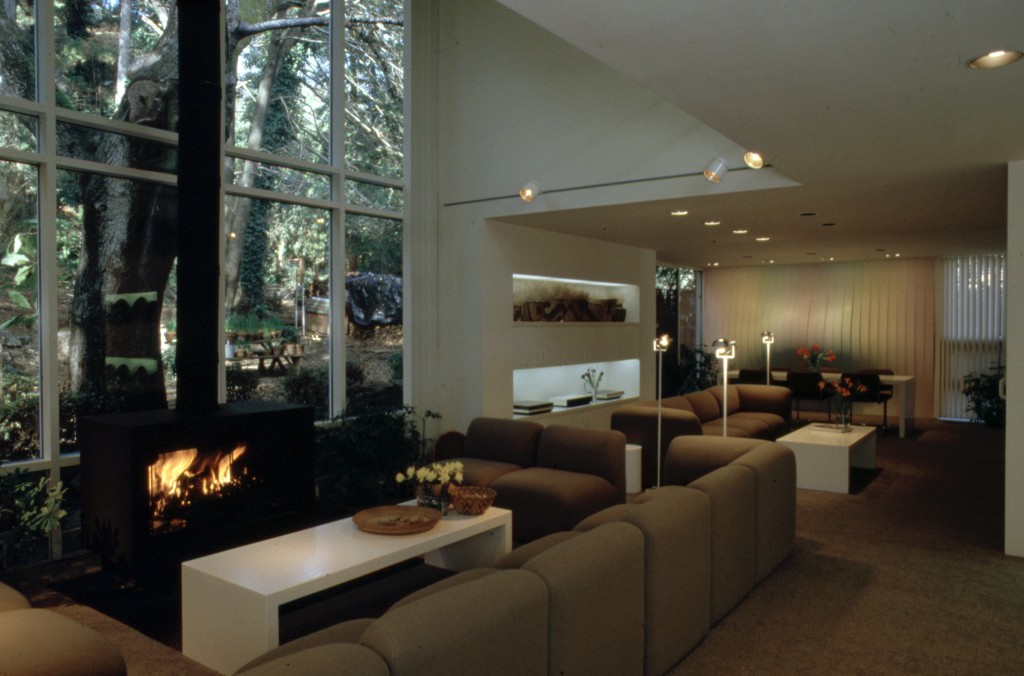 For more about the wall sculptures see Painted Sculptures page.
I hand-shaped the holes through which these steel railings passed to reach their mountings behind the walls. These holes are the most difficult and most exact circles I have ever made.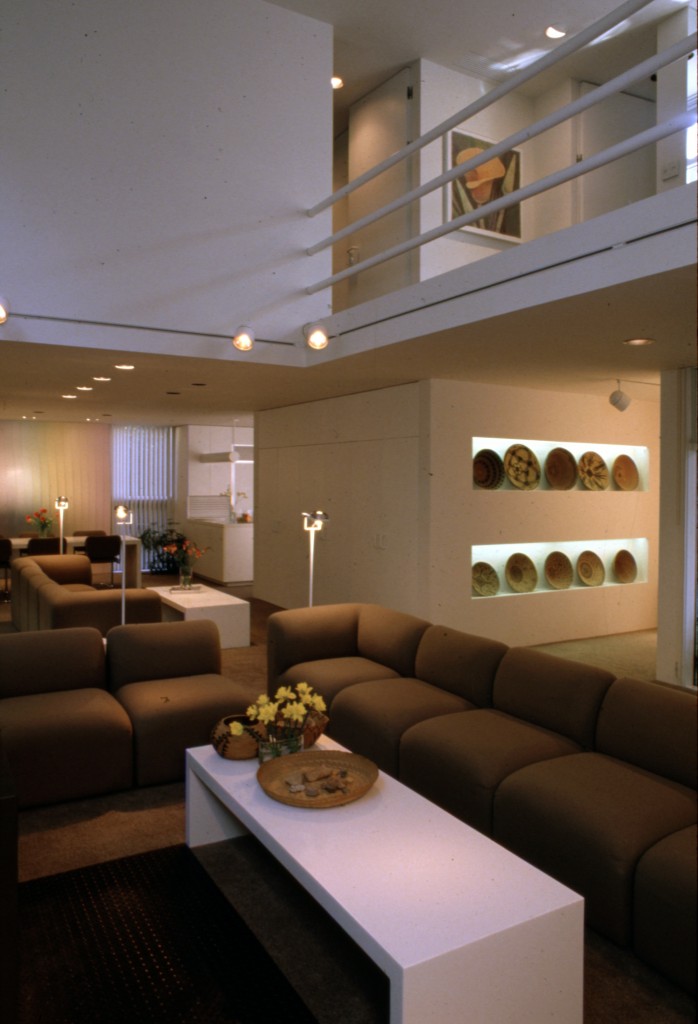 Theater gels cover the lens of each light on these steps.  We painted the housings to match the warm gray carpet.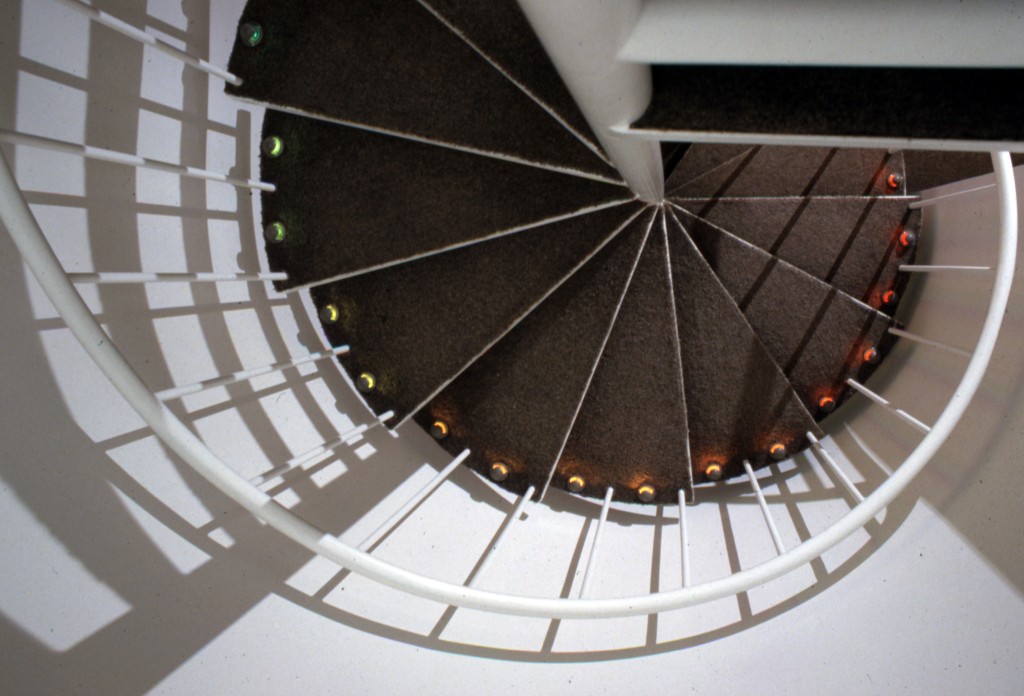 Our cabin in the woods:  San Geronimo, Marin County, CA.
In 1985 we upgraded our street's original 1920's summer cabin, adding
a living room.  We painted high gloss enamel onto the bottoms of the beams to reflect the outdoors through the large windows.
We repainted three years ago, this time using Fine Paints of Europe's
Hollandlac Brilliant on bottoms of beams and rafters.  The rest of the woodwork is C2 eggshell finish; the walls and ceiling decking boards are C2 flat.
Winter light through the windows shimmers on the glossy paint.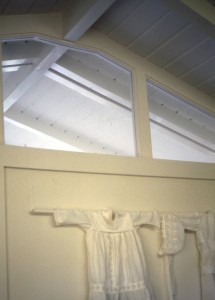 …………..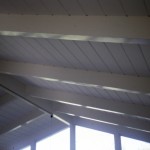 Early morning, in summer; reflected greenery.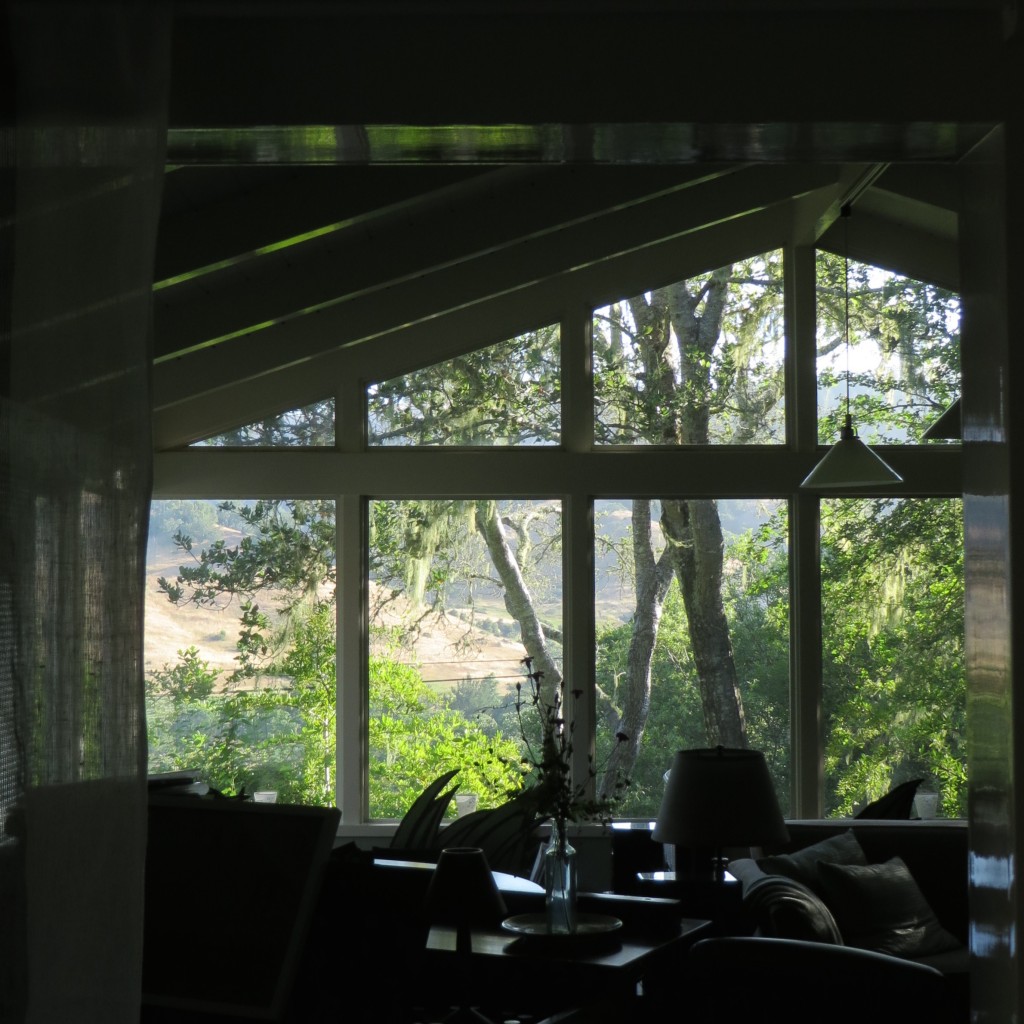 C2 flat wall and satin trim paint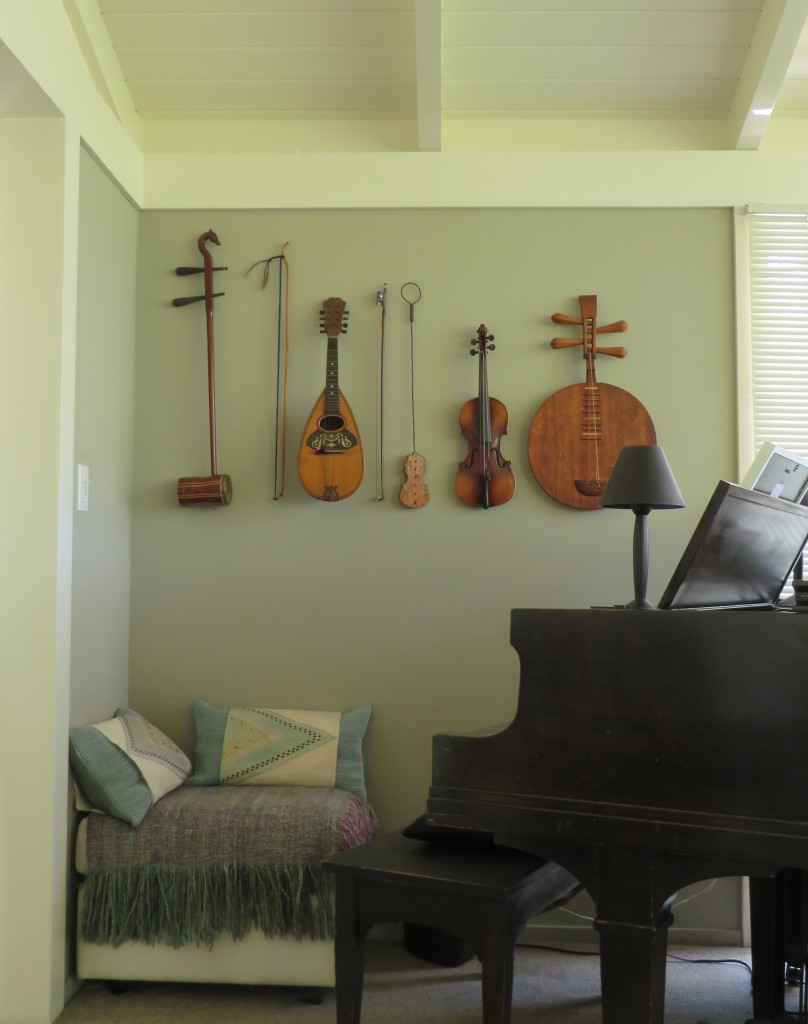 C2 Cabinet and Trim Paint with PolyWhey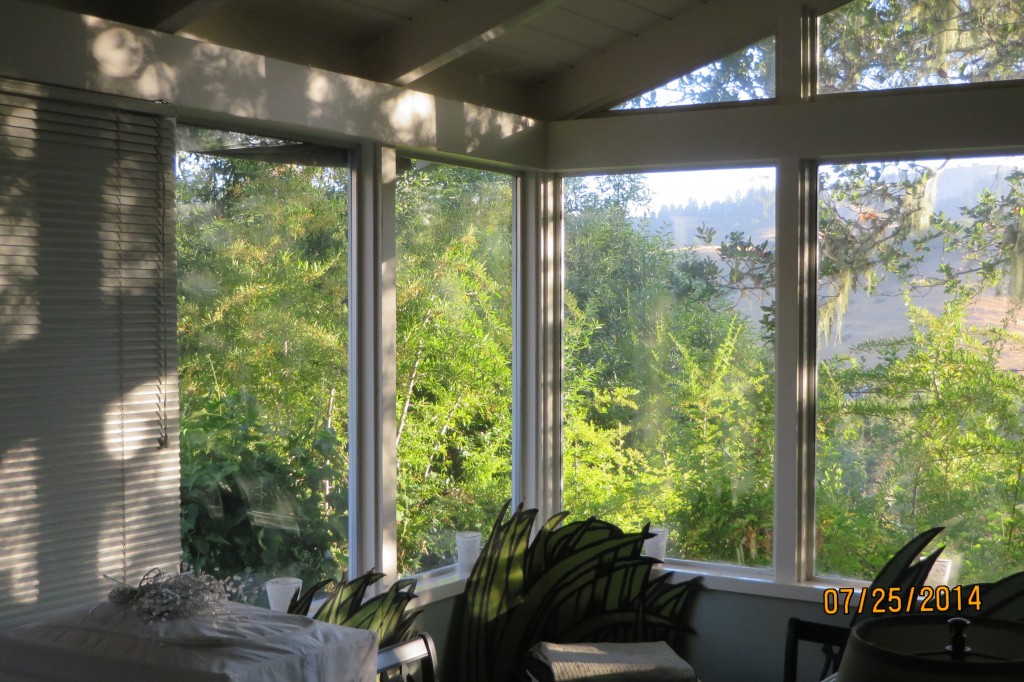 Old attic space made beautiful with color and light.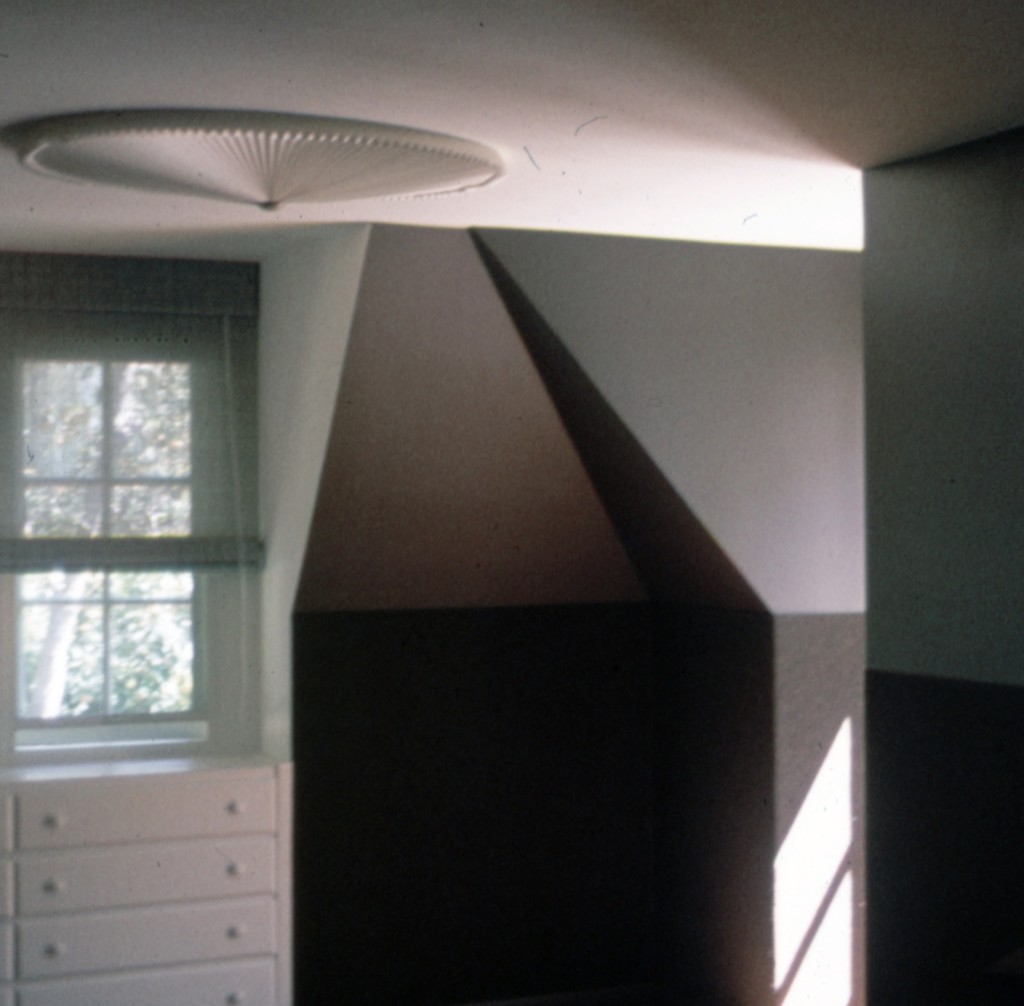 San Anselmo, CA 1975
Kent Woodlands, Marin County, CA.
Busy staircase masked for trip-free passage; left wall to be painted.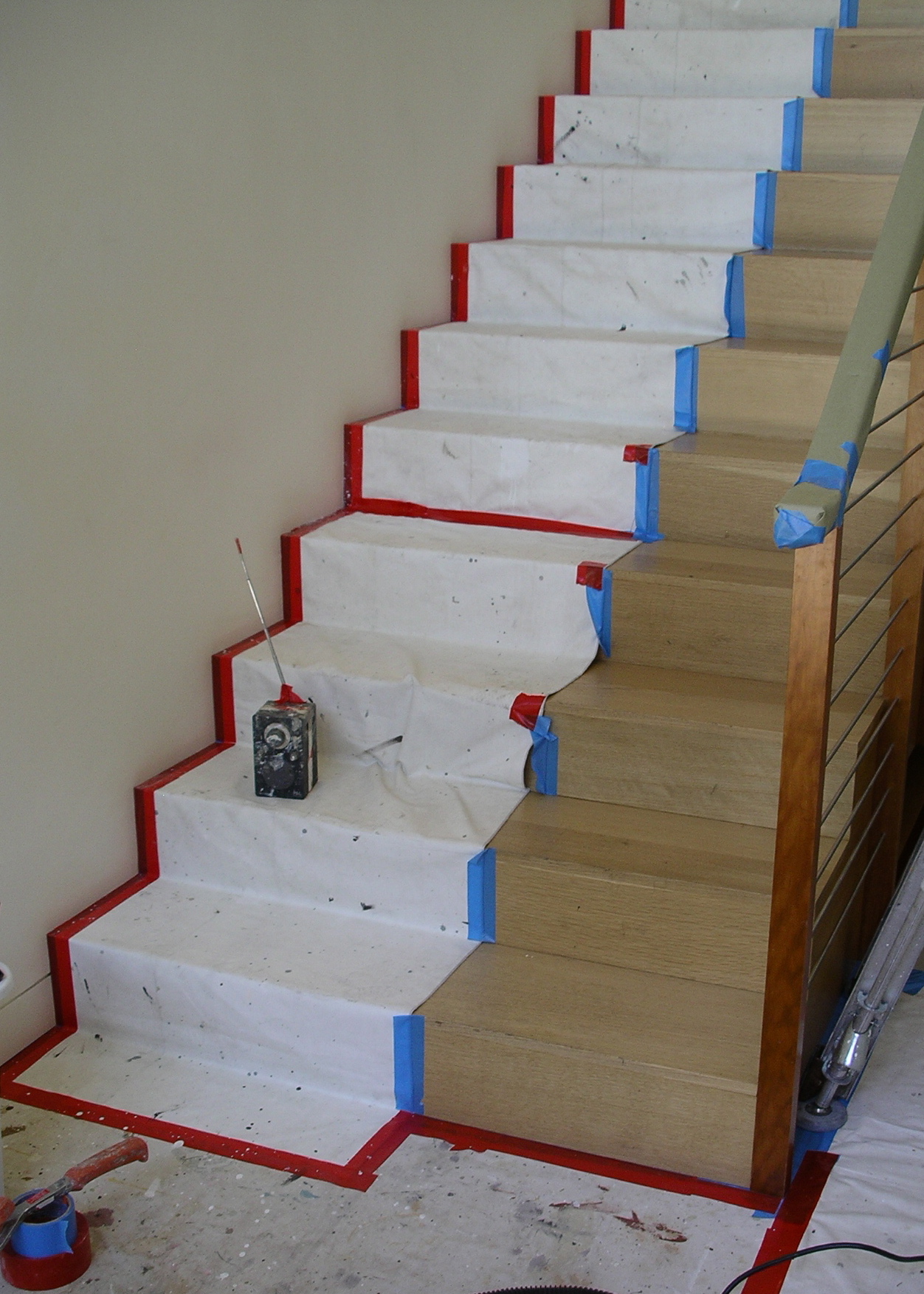 Color on Color / Vertical Accent Bands / How To
Prepare your walls and paint a full coat of the background color. (In our case flat off-white wall paint.)  Choose the pattern widths which fit your space and personal taste.  When the wall paint is dry, carefully measure and mark  the desired intervals across the masked-off ceiling edge.  Use a laser level, a plumb bob, or some other means to establish plumb verticals, and mark the vertical lines lightly with a pencil.  Mask (FrogTape yellow or 3M orange- core low-tack tape to avoid wall damage).  Mask outside the pencil line of the bands you wish to accent. (Think this through carefully; it is easy to mask the wrong side of the tape.)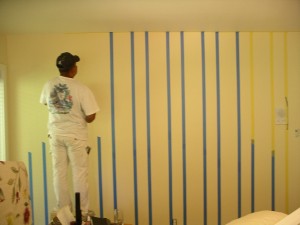 [Option: To make lines flawless, first seal with the original paint the edge of your tape which will get the accent coat, so that any paint which leaks will match what it leaks into: the original paint.] Next, apply your accent coat.  (In our case we applied a satin finish water-based polyurethane clear, which added no color, but simply changed the sheen.)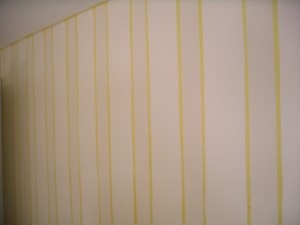 When the accent bands are dry to the touch, remove the tape.
Finished.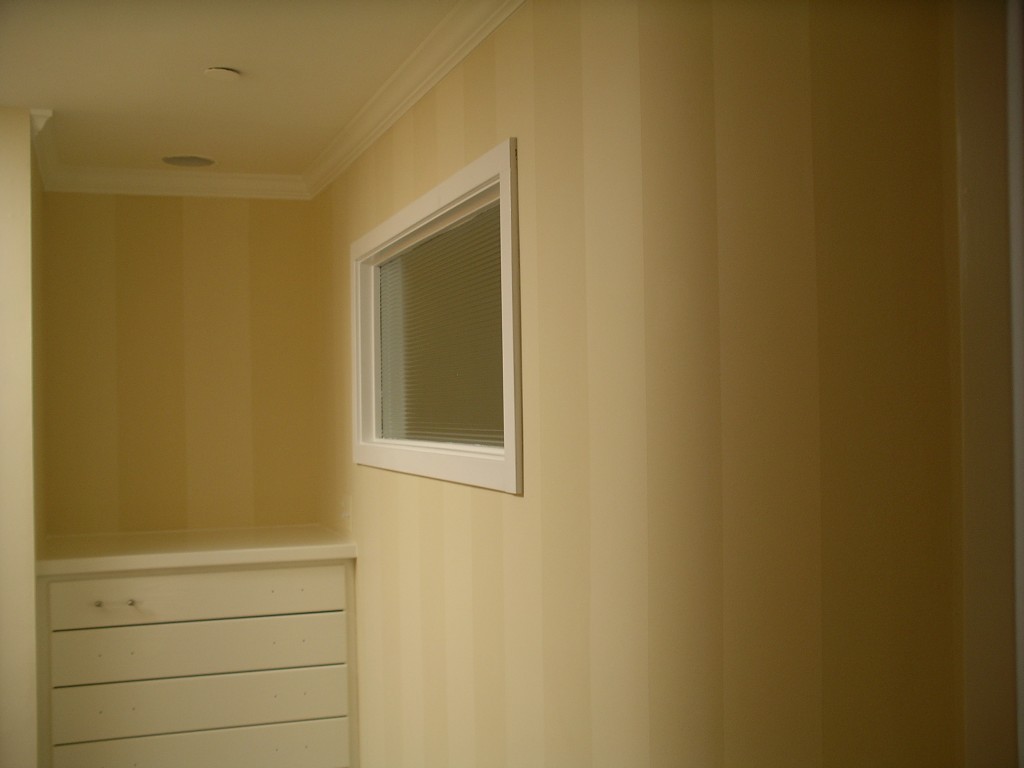 South of Market / San Francisco
I am "cutting in" a straight line with an accent color, while Danny rolls on the second coat in his condominium in Infinity Towers, San Francisco. He and his wife hired me to be chief painter, supervisor, and "painting tutor." We had a great time working together.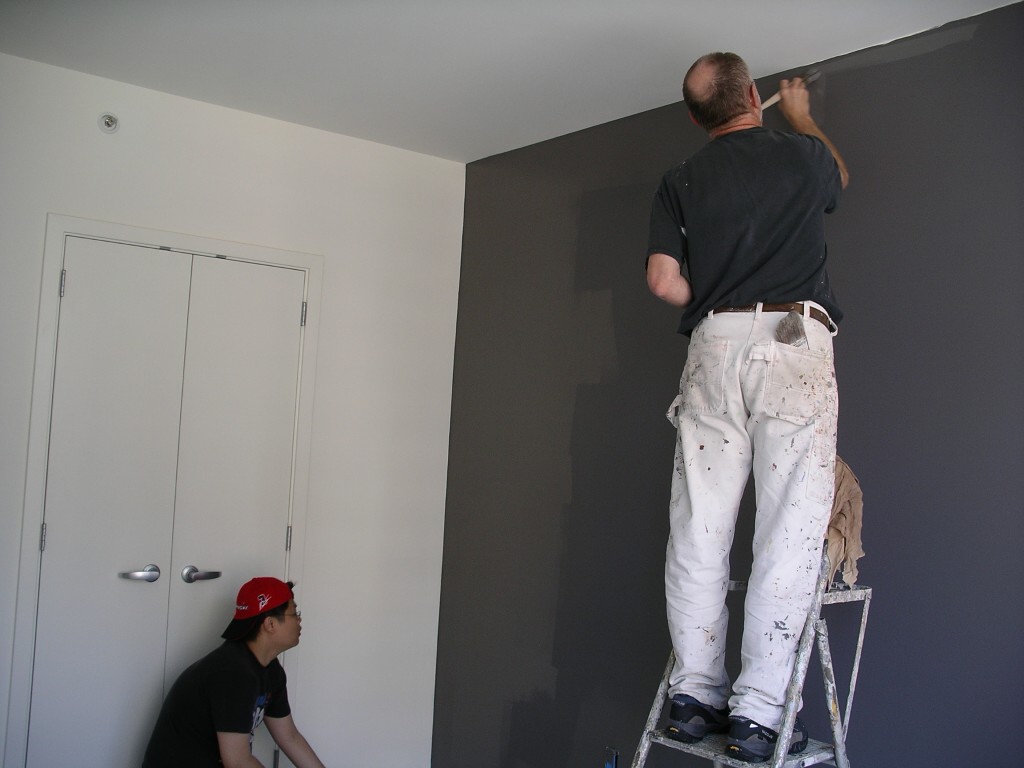 Belvedere, Marin County, CA
Simple, elegant, functional  off white laundry room.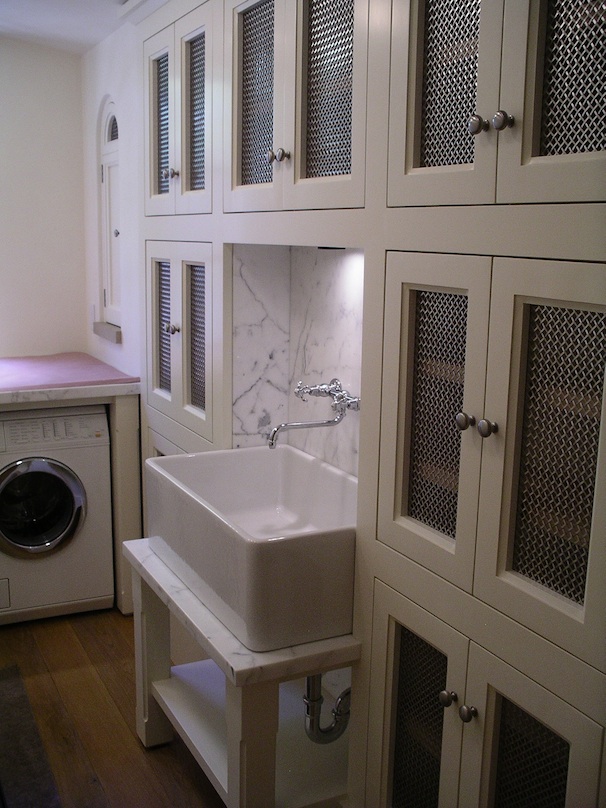 back to Residential / 3 pages