Care for surroundings.  Thorough Cleaning and Preparation. Best Primers and Paints.
This old house in Noe Valley, the first I painted in
San Francisco, required serious preparation.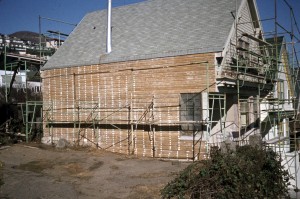 Southern Marin County, Ca.
C2 brand warm gray and white, house exterior.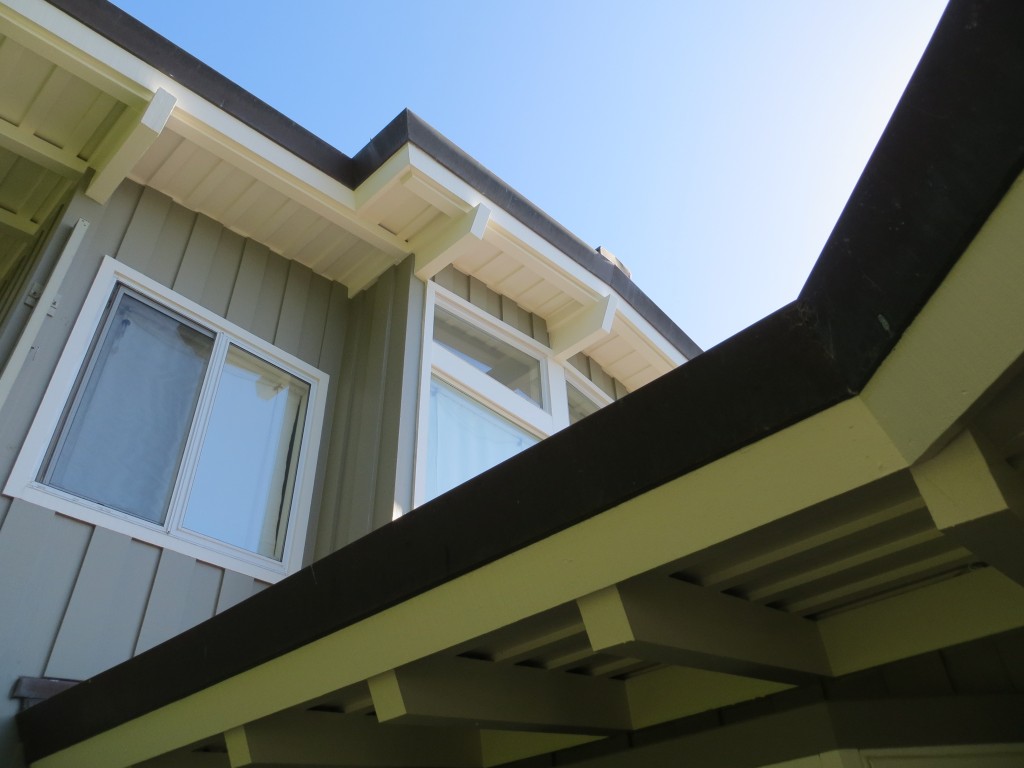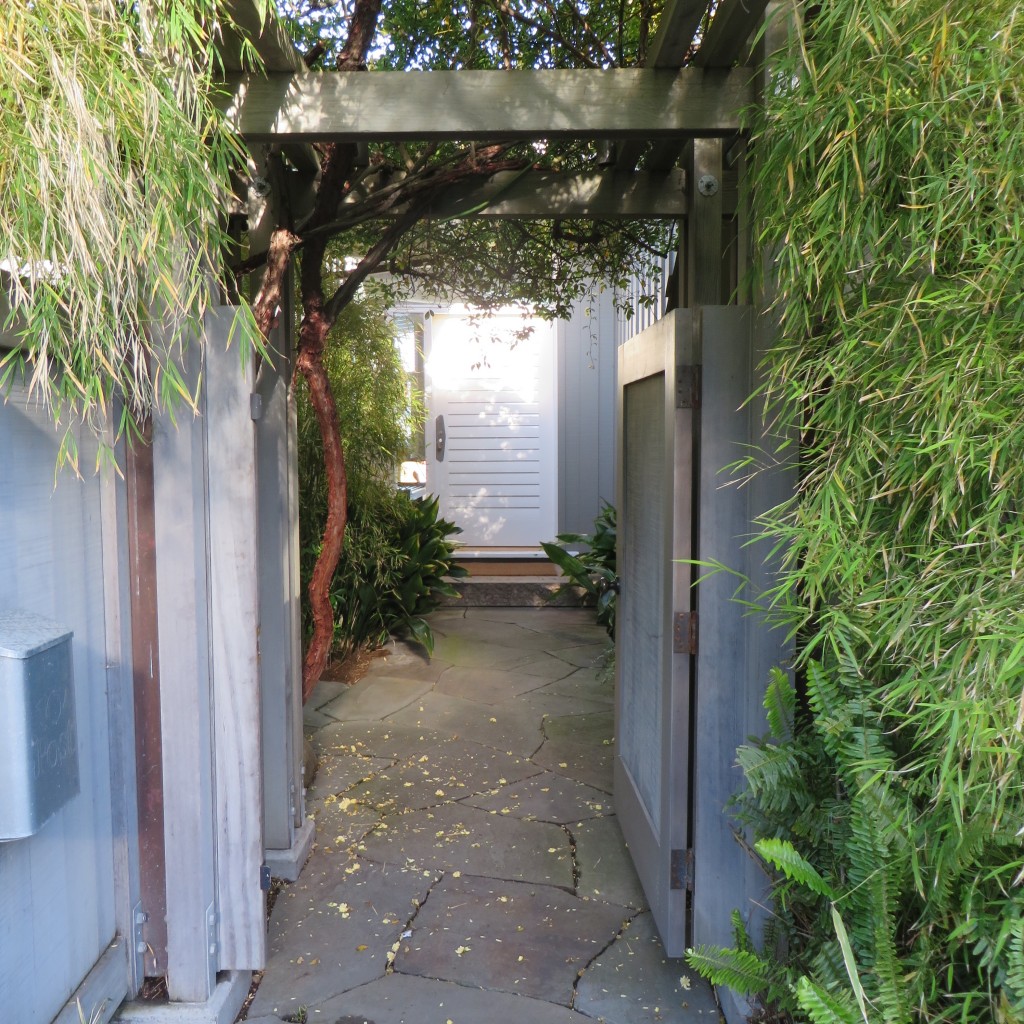 Fine Paints of Europe Hollandlac Brilliant, front door.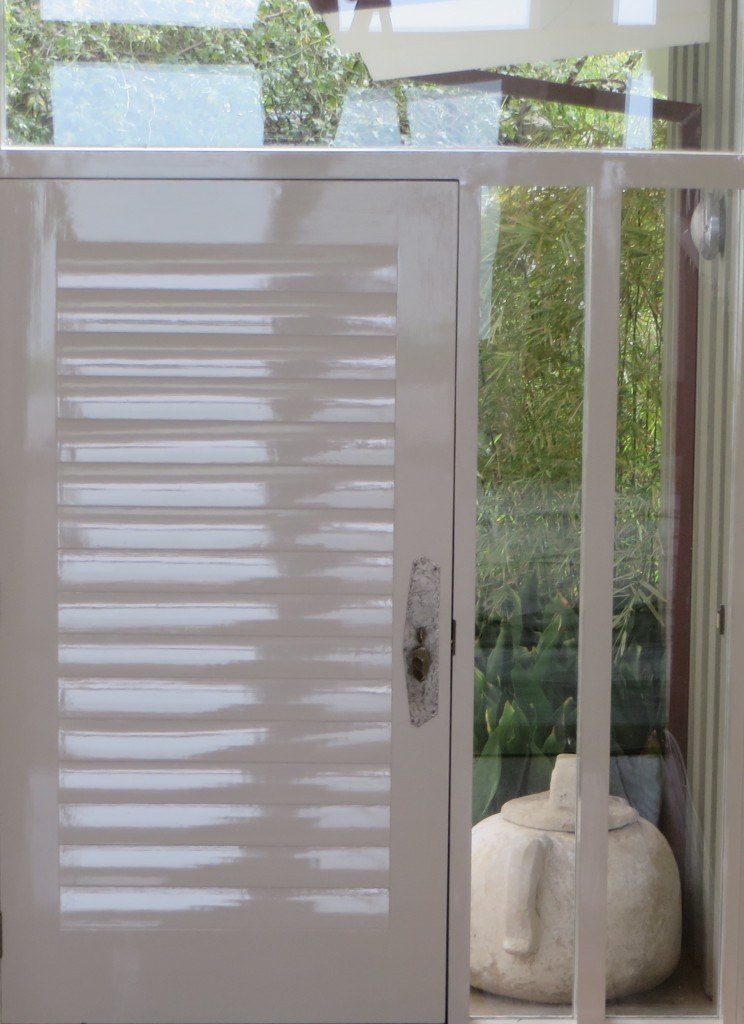 We painted two unusual greens with red ironwork on this distinctive house (center) in Pacific Heights, San Francisco.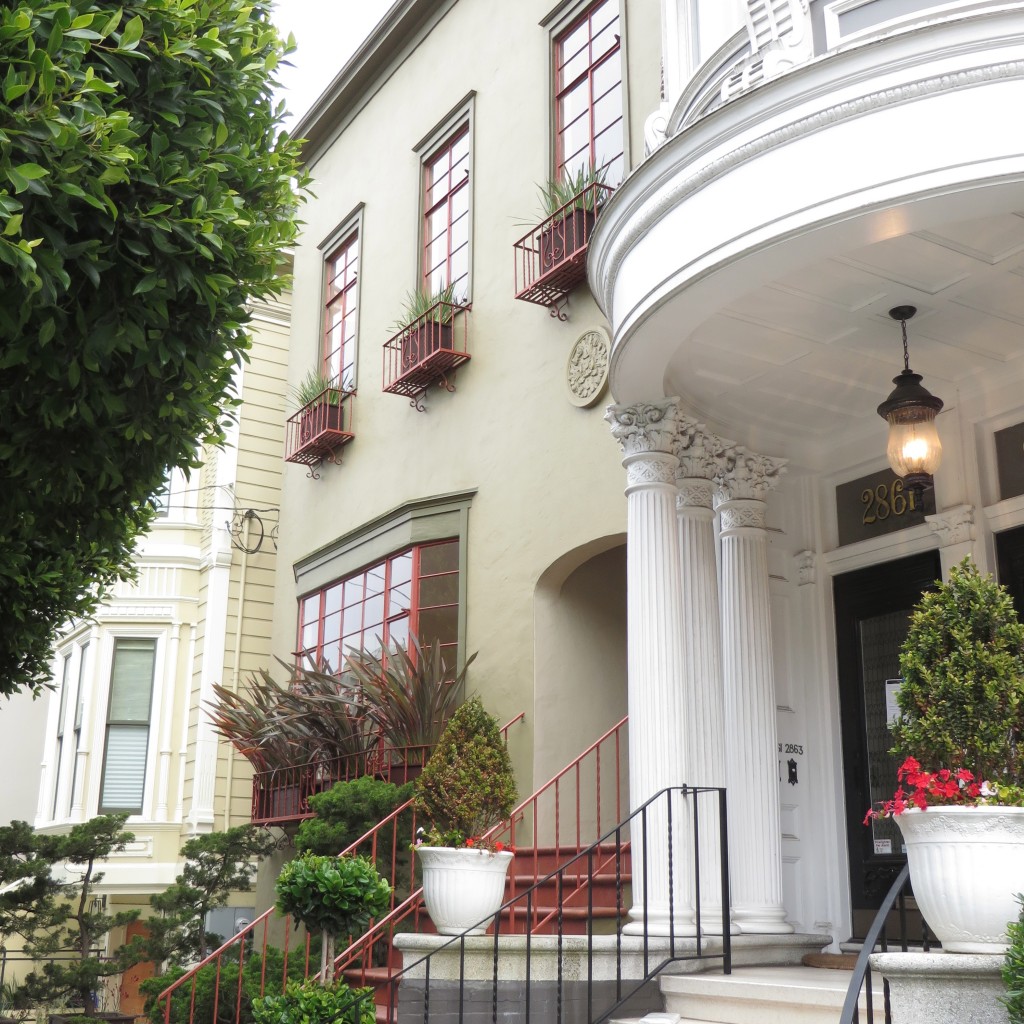 San Francisco Mission District House built in 1907. 
We painted this house blue in 1996; green in 2009.
2009: Before………………….2009: After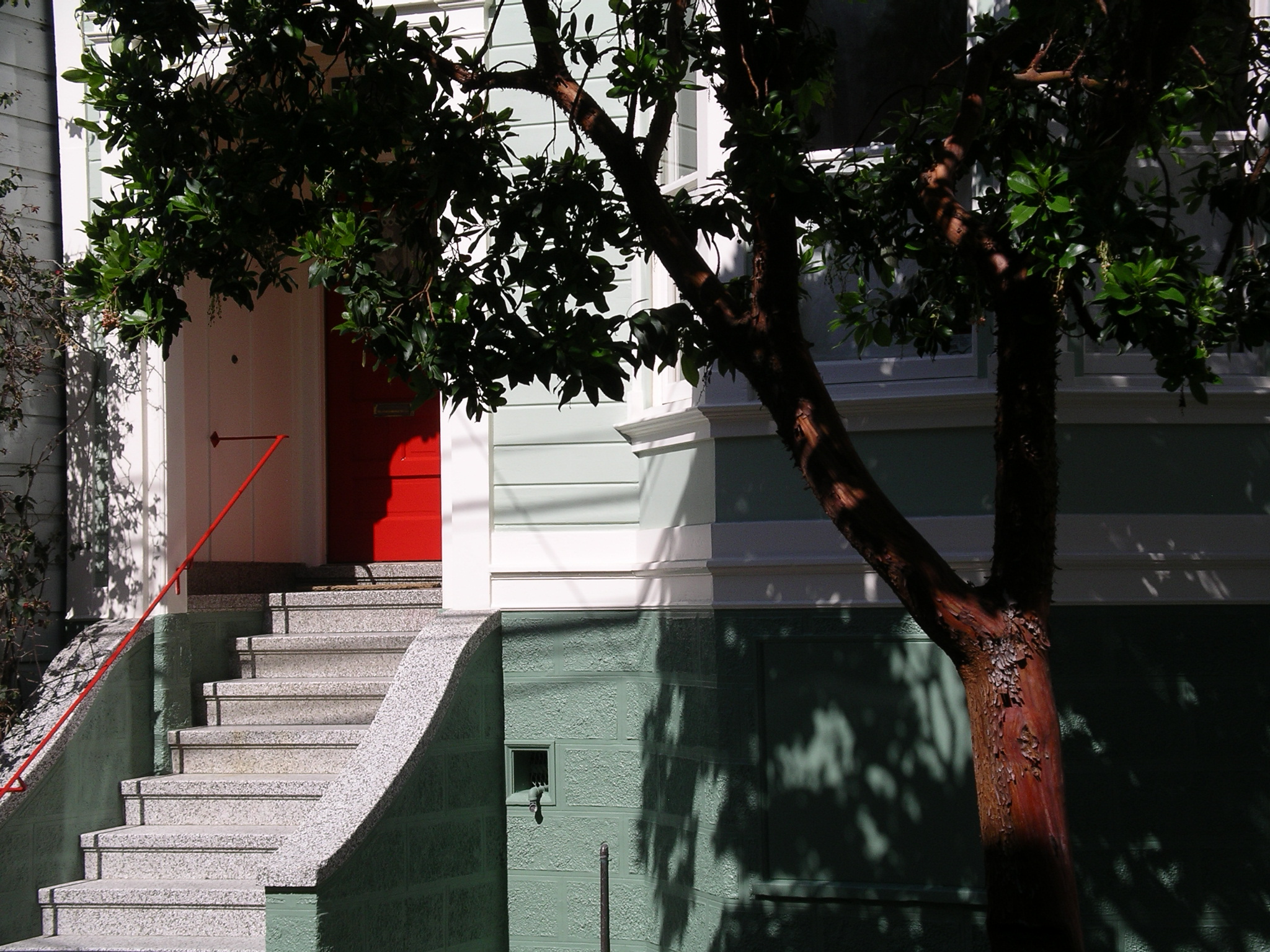 Doors and railings are painted with the classic 
Fine Paints of Europe Tulip Red brilliant finish.
We painted this classic San Francisco house in 2012 in the upper Castro / Noe Valley district.
Before                                                After:  Benjamin Moore AURA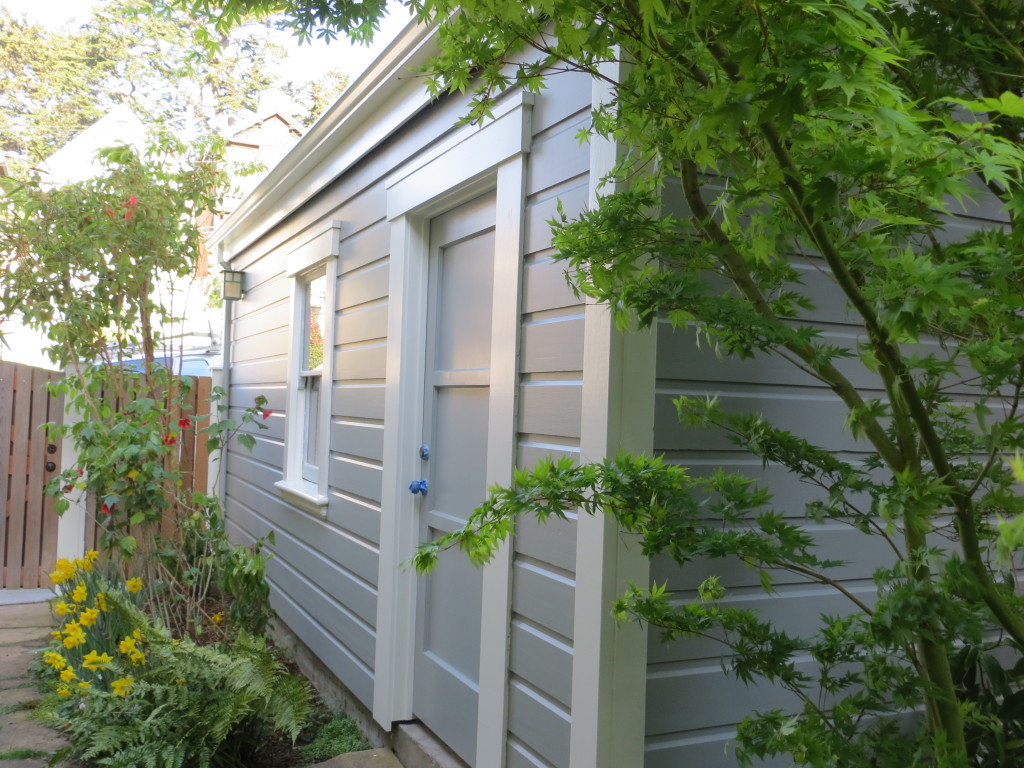 Same house:  Fine Paints of Europe Hollandlac Brilliant.  Front door.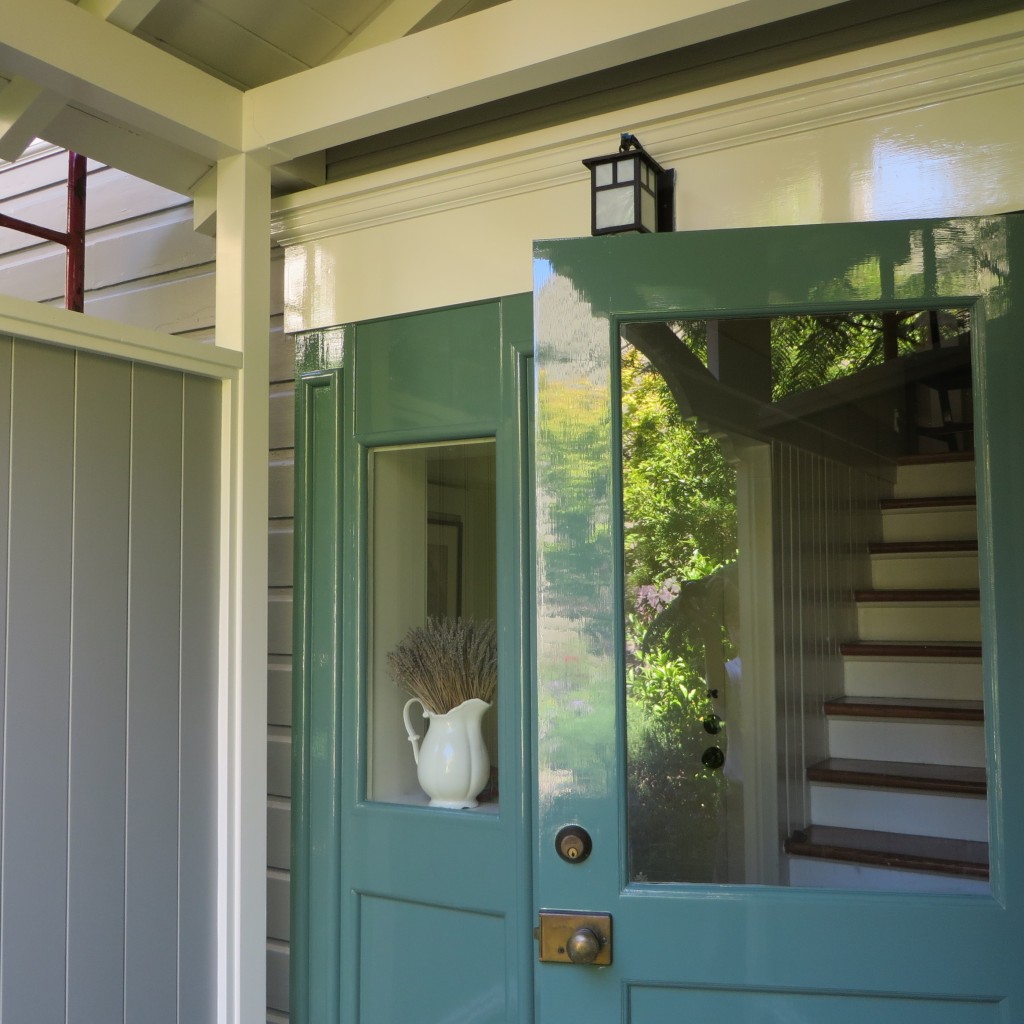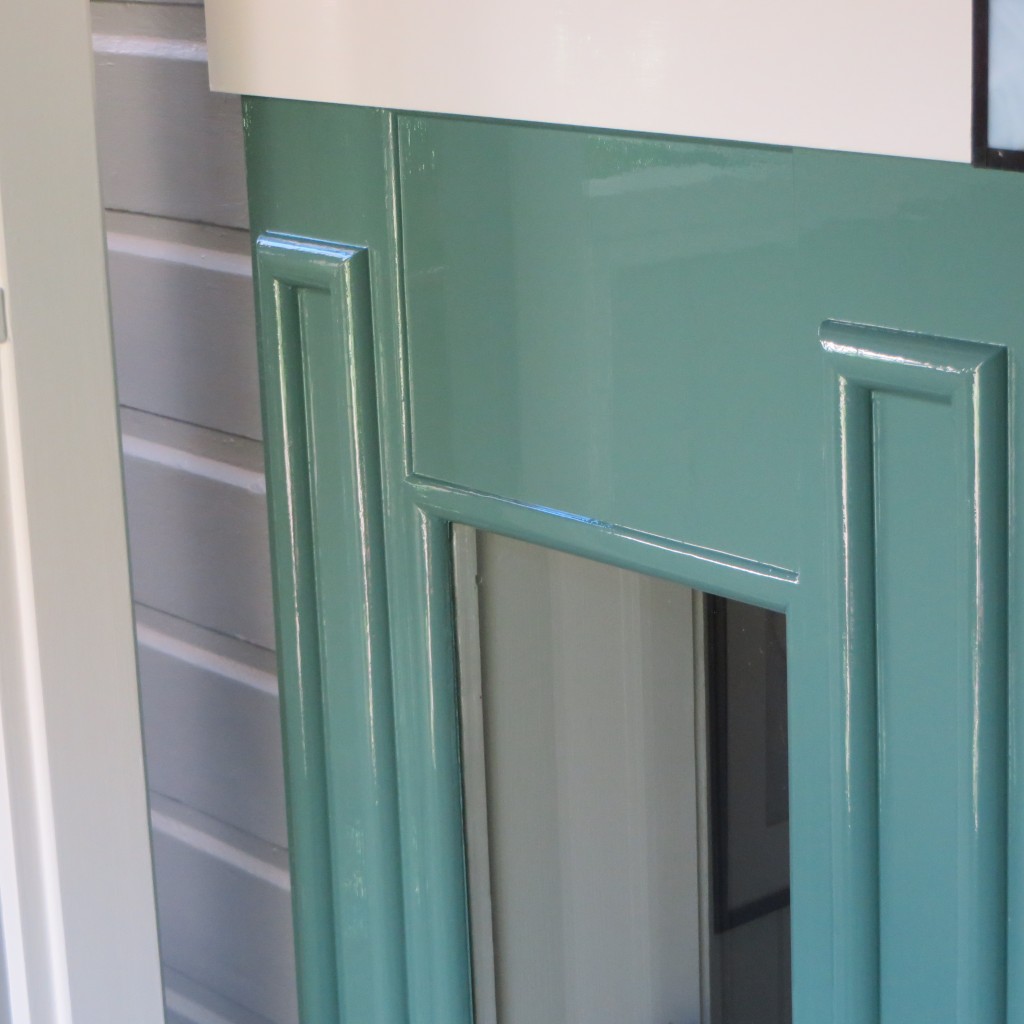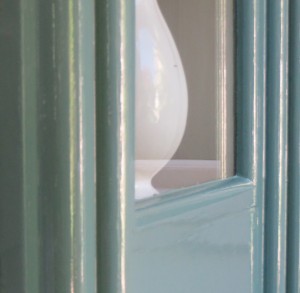 For this San Rafael house and two-story separate garage
we did significant stucco preparation and patching.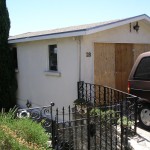 ………….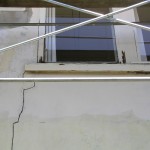 For patched and distressed areas: Mad Dog pre-priming.
Deep yellow C2 primer for full priming.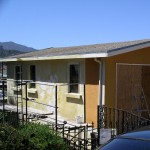 ………….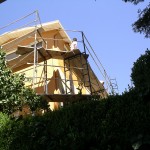 Yellow C2 finish paint.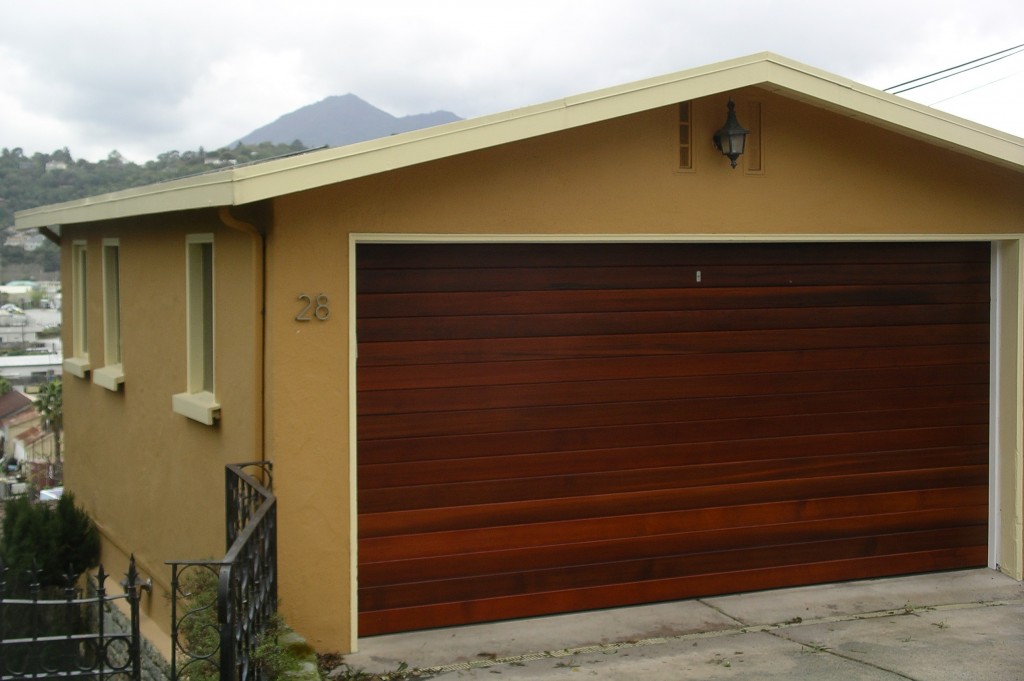 This beautiful new cedar door we finished with Sikkens
Cetol mahogany.
Kent Woodlands, Marin County
We painted this exterior once, and for the same
owners again, 14 years later.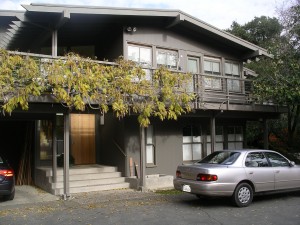 Belvedere Island, Marin County.
For this large custom-built front door with extreme exposure, we stripped the weathered varnish to bare wood, saturated it with epoxy sealer, filled cracks with epoxy, stained, and applied many coats of Epifanes brand marine varnish. …Stripped to bare wood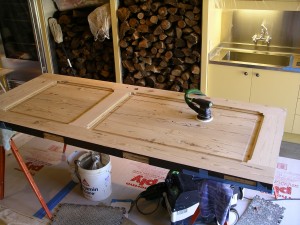 Sanding intermediate gloss coat…….Final satin finish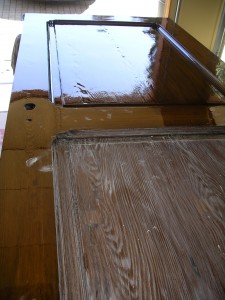 …….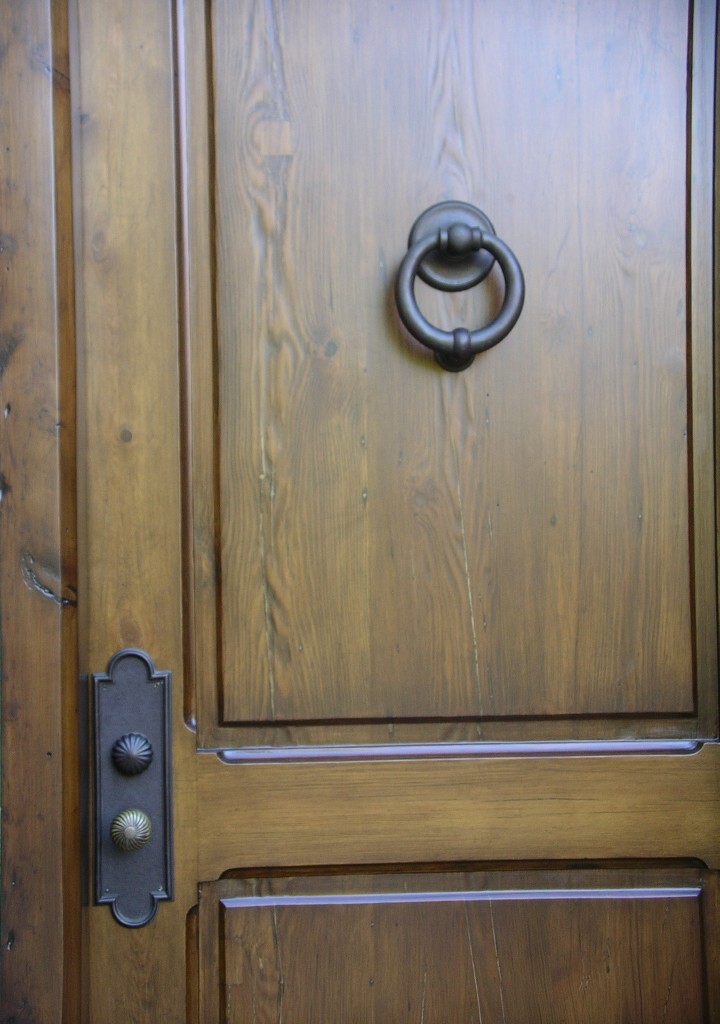 For this same house we stained large steel awnings, and stained and waxed steel windows and doors.  See Staining Steel.
The front gates.
Steel: Stain and wax.   Wood: Stain and satin Epifanes marine varnish.
1983.  For the exterior of Harry Murphy's house in Fairfax, Marin County, we submerged the 20′ long clear cedar siding boards in a custom-built trough filled with oil-based stain.  The small picture shows the boards drying.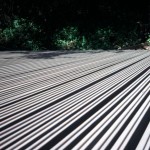 After the carpenters installed the siding it was sand-blasted to create an evenly pitted texture.  From scaffolding we stained the exposed blasted surface of the siding again, two full-length boards at a time. Three painters passed the wet edge, in a relay on three levels.  No lap marks allowed on this job!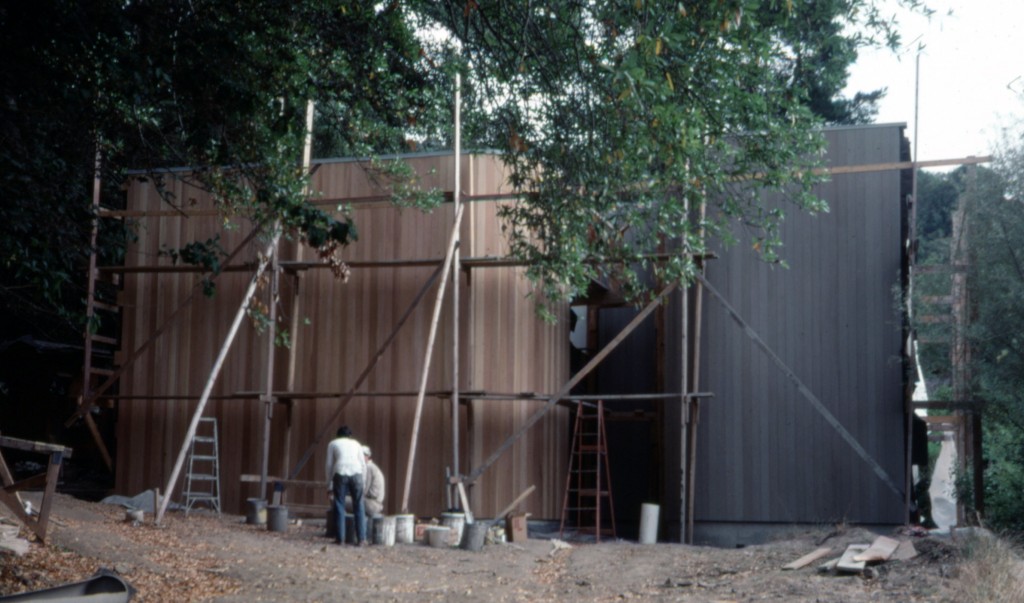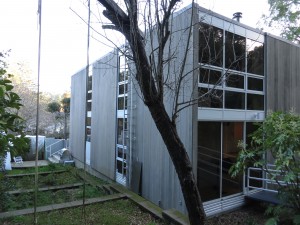 See Interiors page for more of this house.
Re-staining this house for the new owner, in 2013: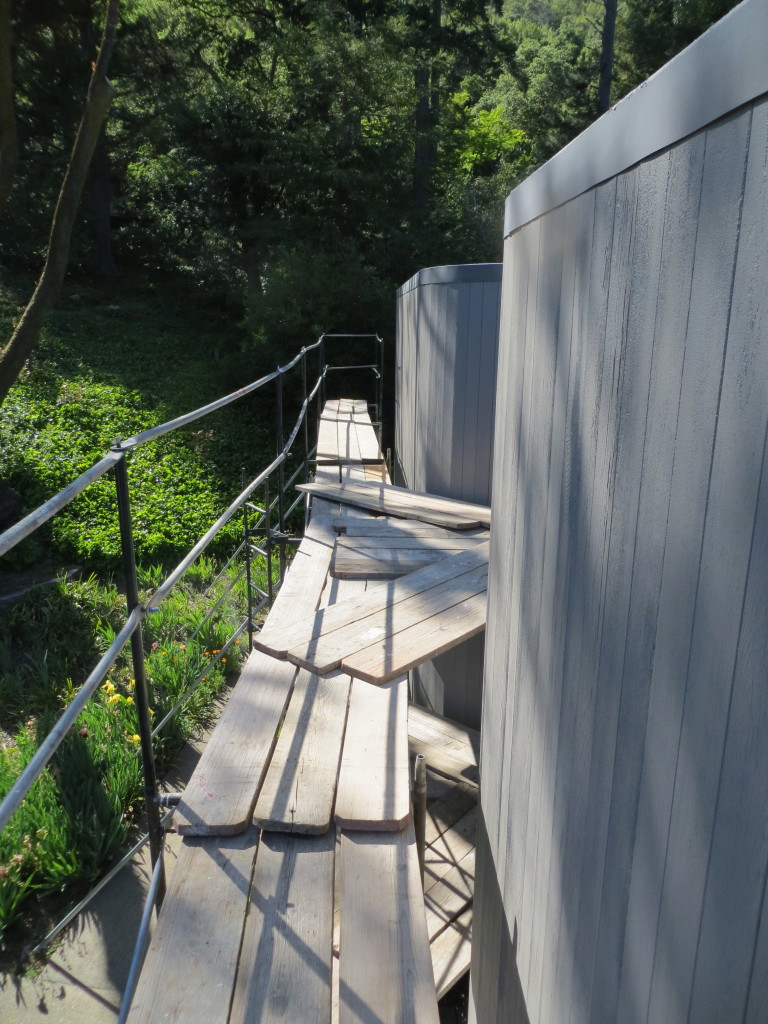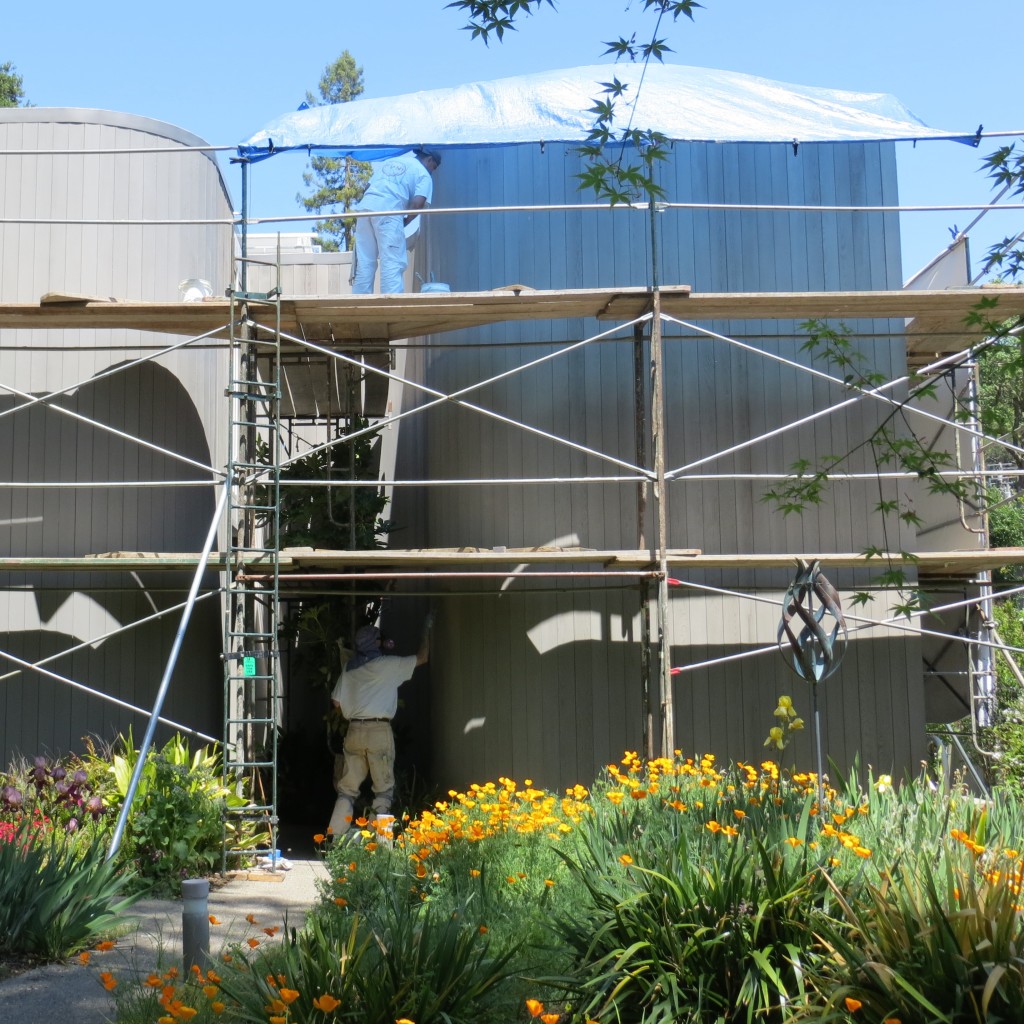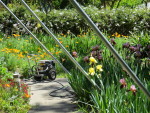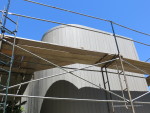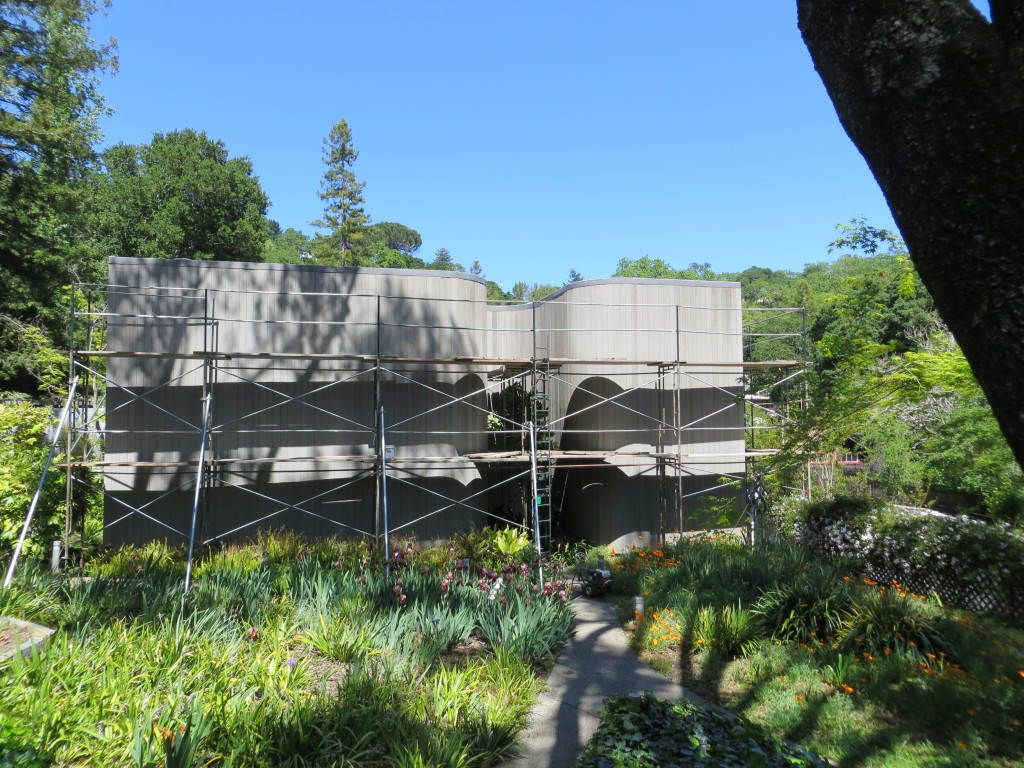 San Anselmo, Marin County, Ca.  Late 1970's.
Before………………………………..After
Rural Santa Rosa, Sonoma County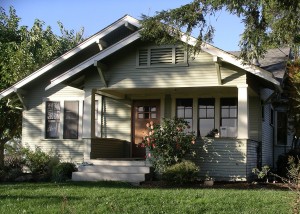 Belvedere, Marin County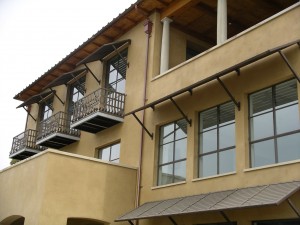 Wood and Steel.
More at Staining Steel

Oakmont Village, Sonoma County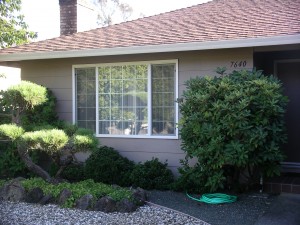 San Francisco
Restoring a 90-year old redwood gutter with
Smith & Co. epoxy products. Click photo twice.
Stucco Color Tests.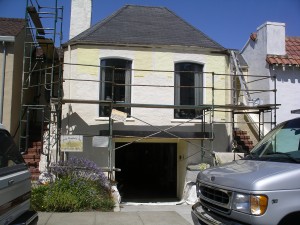 San Geronimo, Marin County, Ca.
The "After" photo shows not just a fresher-looking house, but
a more qualitative, integrated appearance.
Color consultation: Stephanie Furniss Design.
Before…………………………….After (click photos to enlarge)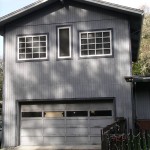 …..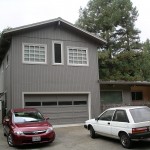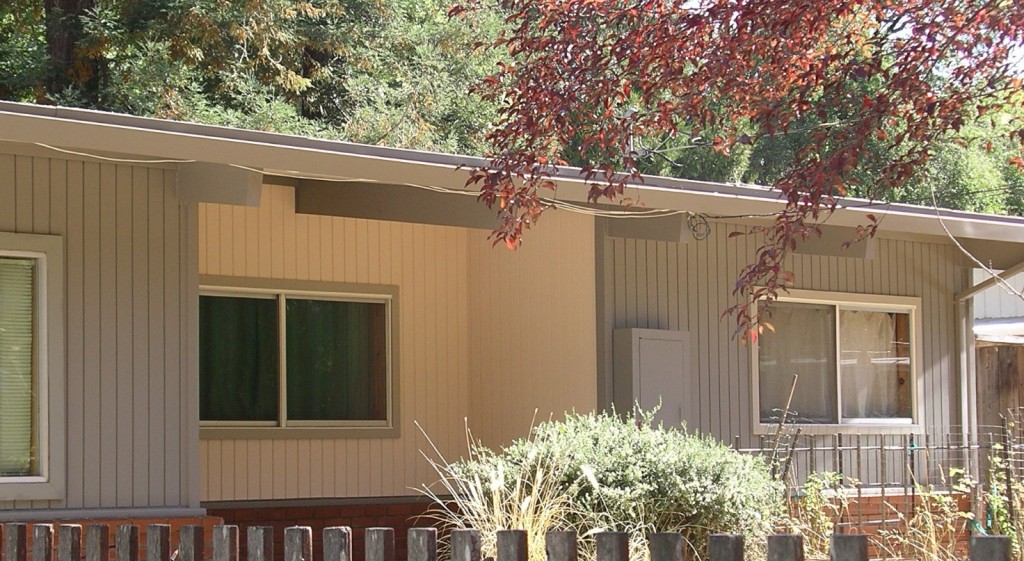 back to Residential / 3 pages