By working with paint and color for many years, and through my association with several gifted specialists and designers, I have become increasingly sensitive to the subtlety and complexity of color.
I have significant experience matching and mixing paint colors on the job. I enjoy working with color, and the beauty which can be created in a space with painted color.
Professional Color Consulting:  when full professional color consulting is required, I highly recommend Stephanie Furniss Design, and a few other color specialists and interior designers.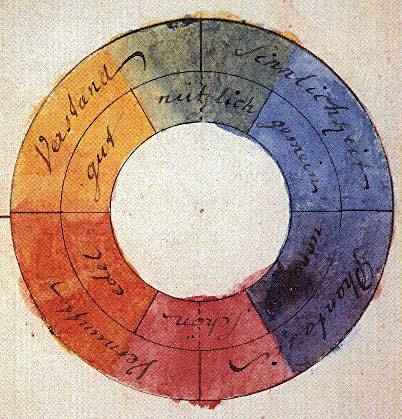 Johann Wolfgang von Goethe, 1807, "Farbenkreis" color wheel
NCS (Natural Colour System) from Scandinavian Colour Institute.             NCS is a beautiful and comprehensive color system, used internationally for standardized color communication among color designers, product manufacturers, craftspeople, and the paint, fashion, and design industries. This color index deck of 1,750 colors, organized with exquisite precision, is available (at an understandably substantial cost) from Fine Paints of Europe.